As mentioned in my last blog entry "Sustainability x Augmented Reality", AR has the potential to improve a brand's transparency and loyalty, as well as spread the brand's message and support its sustainable endeavors.
Through further research, I looked into branding concepts and storytelling. I was interested in how companies bring their story to life and how they create a brand experience. During my research in this field, I found many examples of companies that try to create a stronger connection with their customers with branded interactions and experiences.
The question that stood out for me is how a brand can clarify its brand story for customers on their website/online shop. I was wondering if there is a way AR or technology, in general, can help to create a brand experience that fits the brand values perfectly. A was researching the combination of storytelling and technology in the following.
I got overwhelmed with the big fashion world, so I decided to narrow down "buying fashion online" to "buying sustainable swimwear for women online". Researching a more specific field made it easier for me to compare existing brands and their stories. In the following, I will give a short introduction of my main findings on brand storytelling I found on my research journey.
Building a story brand and unleashing the power of storytelling
Since I got more and more interested in how to create a clear and well-rounded brand story, I read two books about storytelling in the branding process which gave me interesting insights. The first one by Donald Miller "Building a Story Brand". The book by Miller is all about clarifying a brand's message in order to get the customers' attention. The author is focused on selling products online and turning the buying process into an adventure for the clients. In order to achieve the clearest possible message for a brand and get its audience to understand the brand and want to be part of it, the author identifies seven steps to a successful storytelling. The most important lessons I learned from the book are:
1) Make your customer the hero of the story and help them fulfill just one of their desires
Simply listing the product or service a company offers is not enough. The brand has to make it clear by identifying how the offering will fulfill the customer's needs.
2) Identify people's problems and pain points as the villain to keep them interested
Turning problems people need a solution to into villains that they, as the hero of the story, need to conquer, will work in favor of the brand. For instance, a painter could identify the feelings of embarrassment that a customer might have if their house paint looks shabby, as the villain.
3) Give customers a vision of the transformation they will accomplish by purchasing your product
People desire success and a brand can help customers to have a vision of how its product can boost their success by appealing three desires: status, completeness and self-acceptance.
A great quote from the book I will keep in mind:
"NEVER PLAY THE HERO IN THE STORY, ALWAYS PLAY THE GUIDE."
and:
"IF YOU CONFUSE, YOU LOSE"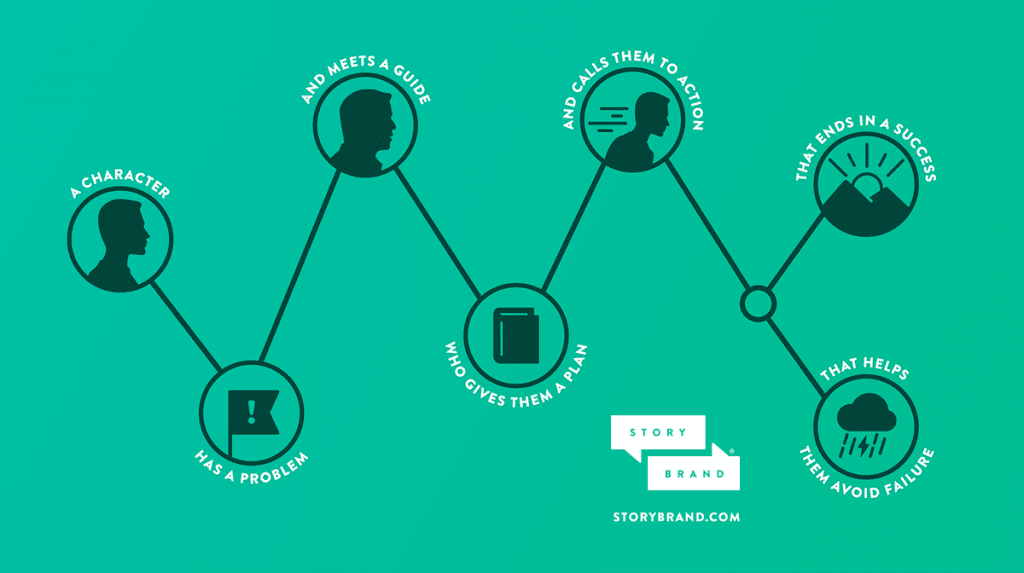 "Building a Brand Story" is an interesting and helpful book with many real-life examples. It offered me great support to get closer to the core message of a brand.
The other book "Unleash the Power of Storytelling" is by the author Rob Biesenbach. The chapter I found most interesting "Emotion Fuels Stories" is about giving a brand story an emotional core by winning hearts and changing minds. Biesenbach offers some guiding questions for creating a brand story:
– Is the character real and relatable?
The brand story needs to be brought down to the human level
– Is there sufficient conflict?
Drama is needed to hold the audience's attention
– Are the stakes high enough?
For a story to work, there has to be something important at stake
– Is there a clear cause and effect?
– Is there an emotional core?
If the audience feels something, they are more likely to act
Biesenbach makes a point by saying that in most cases communication involves stories. He also suggests building one's personal brand story to understand oneself better and assess various opportunities. Also a great book with sample stories.
REFERENCES
Biesenbach, Rob (2018): Unleash the Power of Storytelling. Win Hearts, Change Minds, Get Results.
Miller, Donald (2017): Building a Story Brand. Clarify Your Message So Customers Will Listen.