And why I sometimes make the wrong choice
Let us zoom in. Now that I have established some characteristics of decisions and decision making let us try applying it to my own life. Since I want to look at everyday decisions I have chosen an average day as a starting point.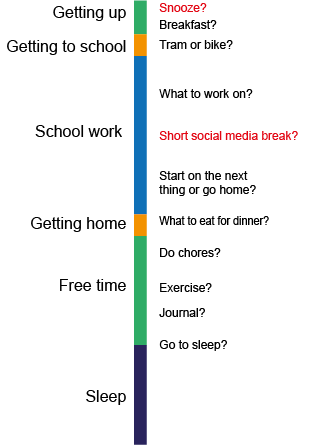 The two red points are decisions I struggle with more than the others. One thing that stands out to me is that for most of the decisions there is a pretty clear cut answer as to what the 'right' decision would be. Should I hit the snooze button? No of course not, I'll have to rush to get to school on time. Should I eat breakfast? Yes, obviously, it will help me concentrate at school. Chores and exercise? No doubt, it very directly betters my quality of life. However, I make the wrong choice all the time. Why? Because I feel like it. There is a very appealing temptation at play. Setting up a boxing match between short term and long term gain, and that temptation makes the long term gain seem oh so far away. Another factor is the notion of work. How much work do I have to put in to do this? Often it is not so much the actual work, but the job of starting a task. Cleaning all my clothes into the closet from the floor probably takes about seven minutes, it is the getting started that is actually hard. And going for a run, why does that seem like work when I am sitting on the couch, even though I really enjoy running once I am out. It might seem like the notion of work (or effort) is much less enjoyable than the actual tasks where I am doing work. And afterwards I always feel better, it is just hard to remember that before you start.